Knighthawks to Honor 2007 Championship Team

On March 25, the Rochester Knighthawks will turn back the clock and celebrate the 10th anniversary of winning the 2007 Champion's Cup. The organization will honor the players, coaches and staff of that historic team during a full night of festivities. "It was a special team at that time. We got off to a rough start, but once we turned the corner we just kept winning," said Hall of Fame goalie Pat O'Toole. "When I tell my la...
Full Story

Todays Top Story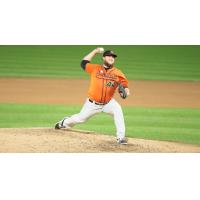 PITCHING LEADS WAY AS FLOCK EVEN SERIES Strong start from Larkins, dominant performance by bullpen lift Ducks over Patriots (Central Islip, N.Y., Sept. 21, 2017) - The Long Island Ducks defeated the Somerset Patriots 4-1 on Thursday night in...
Happening Now
Tweets By OSC Today
Search OSC