Georgia Swarm Falls to Calgary in Tough Road Loss

(CALGARY, Alberta) - The Georgia Swarm (7-2) fell victim to a dominating Calgary Roughnecks (4-6) to the tune of 18-11 on Saturday, March 4, at Soctiabank Saddledome. 9,780 fans watched as the home team scored first, widening the gap throughout the first half on the way to a convincing win. Georgia's second loss of the season came at the hands of a Calgary team desperate to end their five-game losing streak. A tale of two h...
Full Story

Todays Top Story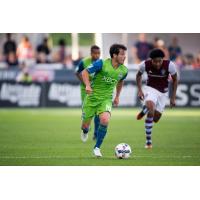 The Calgary Stampeders have clinched first place in the West Division and will host the Western Final on Sunday, Nov. 19 at McMahon Stadium. The Stamps (13-2-1) officially locked up top spot in the division as a result of today's loss by the secon...
Happening Now
Tweets By OSC Today