Georgia Swarm Falls to Calgary in Tough Road Loss

(CALGARY, Alberta) - The Georgia Swarm (7-2) fell victim to a dominating Calgary Roughnecks (4-6) to the tune of 18-11 on Saturday, March 4, at Soctiabank Saddledome. 9,780 fans watched as the home team scored first, widening the gap throughout the first half on the way to a convincing win. Georgia's second loss of the season came at the hands of a Calgary team desperate to end their five-game losing streak. A tale of two h...
Full Story

Todays Top Story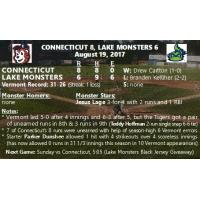 T-Bones Victorious over Railcats, 3-2 KANSAS CITY, Kan. - The Kansas City T-Bones evened the series with the Gary SouthShore Railcats on Saturday night, with a 3-2 win at CommunityAmerica Ballpark. With a win last night, the Railcats took over ...
Happening Now
Tweets By OSC Today
Search OSC