Warriors Fall to Blue in Record-Setting Game at Oracle Arena

OAKLAND, Calif. - The Santa Cruz Warriors (18-15) fell to the Oklahoma City Blue (25-11) 105-96 on Sunday night at Oracle Arena. The Warriors established a new single-game D-League attendance record with a crowd of 17,497 packing Oracle Arena in the first-ever D-League game on Golden State's home floor. James Southerland led the Warriors with 20 points, 9 rebounds, and 4 steals. Alex Hamilton added 15 points and 6 rebounds ...
Full Story

Todays Top Story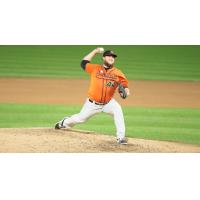 PITCHING LEADS WAY AS FLOCK EVEN SERIES Strong start from Larkins, dominant performance by bullpen lift Ducks over Patriots (Central Islip, N.Y., Sept. 21, 2017) - The Long Island Ducks defeated the Somerset Patriots 4-1 on Thursday night in...
Happening Now
Tweets By OSC Today
Search OSC