Georgia Swarm Handed First Loss of Season

(DENVER) - After its best start since the 2008 season, the Georgia Swarm (4-1) has finally tasted defeat in 2017, falling 14-10 against the Colorado Mammoth (3-3) in front of 15,524 fans at Pepsi Center Saturday evening. After pulling out a thrilling road victory last weekend in Vancouver to remain undefeated, the Swarm just couldn't slow down a Mammoth squad who fed off its home crowd all night long. While there were spect...
Full Story

Todays Top Story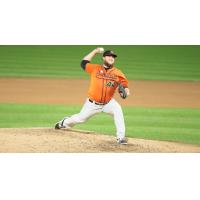 PITCHING LEADS WAY AS FLOCK EVEN SERIES Strong start from Larkins, dominant performance by bullpen lift Ducks over Patriots (Central Islip, N.Y., Sept. 21, 2017) - The Long Island Ducks defeated the Somerset Patriots 4-1 on Thursday night in...
Happening Now
Tweets By OSC Today
Search OSC