Former Cajun Picked to Lead Cane Cutter's Pitching Staff

Former Ragin Cajun pitcher, Joey Satriano, has been tapped to lead the Cane Cutter pitching staff for the 2017 season. Satriano, from Houston, pitched for McLennan Community College before joining the Cajuns for the 2010 and 2011 season. While at ULL, Satriano made 24 appearances in both his junior and senior season. He had an outstanding 2.66 ERA his junior year and a 3.29 ERA his senior season. After finishing at ULL, he pla...
Full Story

Todays Top Story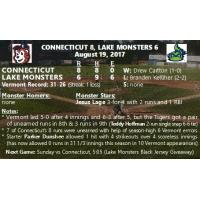 BASEBALL International League: Officials in Worcester (MA) voted to pass a resolution to move forward with trying to lure the Pawtucket (RI) Red Sox, or PawSox, of the Triple-A International League to the city. The PawSox have a lease that runs ...
Happening Now
Tweets By OSC Today