Former Cajun Picked to Lead Cane Cutter's Pitching Staff

Former Ragin Cajun pitcher, Joey Satriano, has been tapped to lead the Cane Cutter pitching staff for the 2017 season. Satriano, from Houston, pitched for McLennan Community College before joining the Cajuns for the 2010 and 2011 season. While at ULL, Satriano made 24 appearances in both his junior and senior season. He had an outstanding 2.66 ERA his junior year and a 3.29 ERA his senior season. After finishing at ULL, he pla...
Full Story

Todays Top Story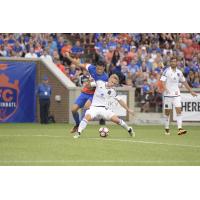 CHICAGO STEEL WIN CLARK CUP CHAMPIONSHIP Steel defeat Musketeers 2-1 in overtime Tuesday at Sioux City SIOUX CITY, IOWA - The Chicago Steel are Clark Cup Champions, winning the USHL's championship for the first time in the team's 17-year history. ...
Happening Now
Tweets By OSC Today