Westchester Knicks Introduce New Mascot: Hudson Knickerbocker

WHITE PLAINS, NY - The Westchester Knicks, the official NBA Development League affiliate of the New York Knickerbockers, announced the name and jersey number of the team's new mascot today at the Westchester County Center. Westchester County Executive Rob Astorino, General Manager Allan Houston, and the Westchester Knicks Dancers were on hand to introduce Hudson, who will wear jersey number 914 in homage to Westchester C...
Full Story

Todays Top Story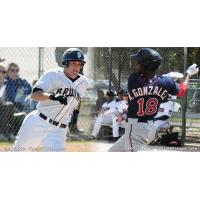 Portland selects midfielders Sandra Yu, Gabby Seiler in first round, Bella Geist in third round PHILADELPHIA - Portland Thorns FC selected midfielders Sandra Yu (No. 8 overall) from Notre Dame and Gabby Seiler from the University of Florida (No. 9...
Happening Now
Tweets By OSC Today
Search OSC