Pelicans Win 5-3 for Second Straight Carolina League Championship

LYNCHBURG, Va- The Myrtle Beach Pelicans came from behind to win their second straight Carolina League Championship Wednesday, beating the Lynchburg Hillcats 5-3 at Calvin Falwell Field at Lynchburg City Stadium. The 2016 championship is the team's second consecutive title and fourth in Pelicans' history. They are the first team to win back-to-back Carolina League titles since the Winston-Salem Spirits in 1985-86. The Spiri...
Full Story

Todays Top Story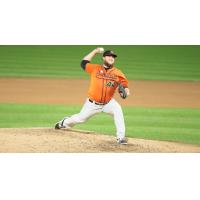 PITCHING LEADS WAY AS FLOCK EVEN SERIES Strong start from Larkins, dominant performance by bullpen lift Ducks over Patriots (Central Islip, N.Y., Sept. 21, 2017) - The Long Island Ducks defeated the Somerset Patriots 4-1 on Thursday night in...
Happening Now
Tweets By OSC Today