New York Riveters Announce Practice Players for 2016-17 Season

Newark, NJ - The New York Riveters have signed their practice players for the 2016-17 season, General Manager Chad Wiseman announced Friday. Gabie Figueroa (D), Taylor Holze (F), Rebecca Morse (D), Julia Herr (F), and Sarah Bryant (G) have agreed to practice player contracts. Figueroa and Holze return to the Riveters as veterans of the inaugural season team. Figueroa played in 18 regular season games, scoring one goal, and ...
Full Story

Todays Top Story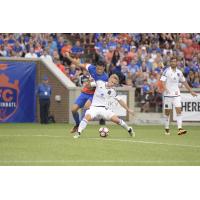 When Wally Backman was hired last winter to manage the Monclova Acereros, all that was missing was a betting line from Las Vegas oddsmakers on how long the former Mets infielder would stay. Speculation was that Backman, who's had success managing te...
Happening Now
Tweets By OSC Today
Search OSC