Newark Pilots Cullen, Fragale Named to 2016 All-PGCBL Second Team

Newark, N.Y. - The Perfect Game Collegiate Baseball League (PGCBL) honored two members of the Newark Pilots on Monday, as shortstop Greg Cullen and third baseman Sam Fragale were named to the 2016 All-PGCBL Second Team. It marks the second time this season that Cullen and Fragale have been awarded for their efforts on the field, as both Pilots were also selected to represent the West Division in the 2016 PGCBL All-Star Game...
Full Story

Todays Top Story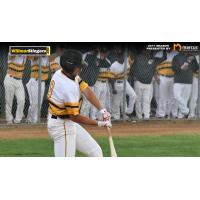 Juan Rodriguez 's tripled in a run and scored in the top of the 13th inning as the Salem-Keizer Volcanoes avenged a 12-inning loss in the series opener with a 5-3 victory over the Hillsboro Hops. Rodriguez had three hits and two runs scored for th...
Happening Now
Tweets By OSC Today
Search OSC