Orem Owlz OF Troy Montgomery

The Owlz completed the four-game sweep of the Raptors with a 4-3 win in Ogden on Monday night. Troy Montgomery tied a career-high in hits with three and also had his second home run of the season in the victory. With the win, the Owlz improve to 7-3 and are off to their best ten-game start under manager Dave Stapleton. The Owlz scored first for the ninth time this season during the second inning. Michael Barash scored on...
Full Story

Todays Top Story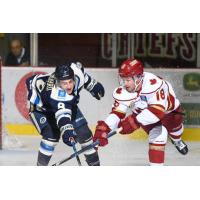 WINNIPEG TAKES MARATHON AFFAIR TO EVEN SERIES Winnipeg 4, Wichita 3 (F/17) Series Tied 2-2 W: Zack Dodson (1-0) L: Tyler Kane (0-1) S: None WINNIPEG, Manitoba (September 18, 2017) - The Winnipeg Goldeyes got a walk-off double in the bottom...
Happening Now
Tweets By OSC Today
Search OSC