Gulf Coast League Umpire Jen Pawol

ST. PETERSBURG, Florida - The Gulf Coast League (GCL) today announced the hiring of umpire Jen Pawol for the 2016 season. Pawol (pronounced Powell) will be the first female umpire in the GCL since Pam Postema in the 1977-78 seasons, and becomes the first female umpire in Minor League Baseball since 2007. Pawol attended the 2016 Minor League Baseball Umpire Training Academy in Vero Beach, Florida. She was selected for the Mi...
Full Story

Todays Top Story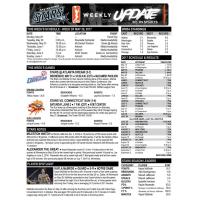 Windsor Spitfires are 2017 Mastercard Memorial Cup Champions - Spitfires become tenth host team, first since 2012 to win - Windsor's 12th straight win at Mastercard Memorial Cup ties Kamloops for most consecutive - 3rd title equals Cornwall ...
Happening Now
Tweets By OSC Today