Colusa Casino Stadium, Home of the Marysville Gold Sox

The Marysville Gold Sox swept the Sacramento Stealth over the weekend to continue their streak of victories in the Great West League. They remain undefeated at home in Colusa Casino Stadium at 8 - 0 and are 13 - 2 overall on the season. General Manager Michael Mink commented on the series saying "This was a great weekend both on and off the field with over 6000 fans in attendance for the weekend series. The Stealth have a g...
Full Story

Todays Top Story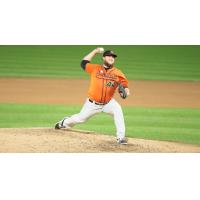 PITCHING LEADS WAY AS FLOCK EVEN SERIES Strong start from Larkins, dominant performance by bullpen lift Ducks over Patriots (Central Islip, N.Y., Sept. 21, 2017) - The Long Island Ducks defeated the Somerset Patriots 4-1 on Thursday night in...
Happening Now
Tweets By OSC Today
Search OSC