Tim Lincecum Pitching for the Salt Lake Bees
As Tim Lincecum signed every last autograph for lingering fans at Chukchansi Park Sunday evening for nearly an hour after the game, it was pretty apparent Fresno Grizzlies fans enjoyed a perfect day. Their team was victorious and at the same time they were able to see Lincecum spin seven shutout innings, a former Grizzly returning as a conquering hero, albeit with an opponent. And in a game where both starting pitchers were...
Full Story

Todays Top Story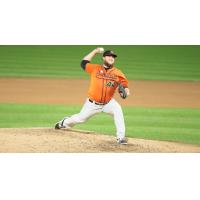 PITCHING LEADS WAY AS FLOCK EVEN SERIES Strong start from Larkins, dominant performance by bullpen lift Ducks over Patriots (Central Islip, N.Y., Sept. 21, 2017) - The Long Island Ducks defeated the Somerset Patriots 4-1 on Thursday night in...
Happening Now
Tweets By OSC Today
Search OSC