Omaha Storm Chasers "Let's Go Miles" Jersey Design by Nicole Pappas

OMAHA - The Omaha Storm Chasers are excited to announce the Grand Prize winning entry for the Let's Go Miles! Jersey Design Contest as chosen by Miles Mortensen. The winning jersey was designed by Nicole Pappas of Boston, Mass., and will feature players and coaches wearing capes on the back of their jerseys as part of the design on Superhero Night on Friday, June 24th. The white jersey sports a large blue "M" for Miles on ...
Full Story

Todays Top Story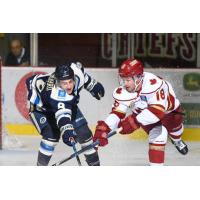 WINNIPEG TAKES MARATHON AFFAIR TO EVEN SERIES Winnipeg 4, Wichita 3 (F/17) Series Tied 2-2 W: Zack Dodson (1-0) L: Tyler Kane (0-1) S: None WINNIPEG, Manitoba (September 18, 2017) - The Winnipeg Goldeyes got a walk-off double in the bottom...
Happening Now
Tweets By OSC Today