Sonoma Stompers Pitcher Santos Saldivar

Sonoma, Calif. - The Milwaukee Brewers have purchased the contract of Sonoma Stompers Ace right-hander, Santos Saldivar, the team's general manager Theo Fightmaster announced Thursday. Saldivar started the Pacific Association championship game for the Stompers last season thanks to his brilliant second-half run. He had a 2.05 ERA in 13 appearances, including five starts, and across his 48 1/3 innings, he struck out 58 and w...
Full Story

Todays Top Story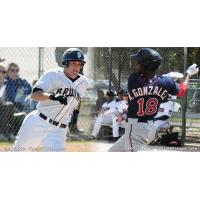 Portland selects midfielders Sandra Yu, Gabby Seiler in first round, Bella Geist in third round PHILADELPHIA - Portland Thorns FC selected midfielders Sandra Yu (No. 8 overall) from Notre Dame and Gabby Seiler from the University of Florida (No. 9...
Happening Now
Tweets By OSC Today
Search OSC