Sonoma Stompers Pitcher Santos Saldivar

Sonoma, Calif. - The Milwaukee Brewers have purchased the contract of Sonoma Stompers Ace right-hander, Santos Saldivar, the team's general manager Theo Fightmaster announced Thursday. Saldivar started the Pacific Association championship game for the Stompers last season thanks to his brilliant second-half run. He had a 2.05 ERA in 13 appearances, including five starts, and across his 48 1/3 innings, he struck out 58 and w...
Full Story

Todays Top Story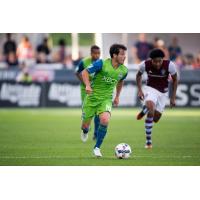 The Calgary Stampeders have clinched first place in the West Division and will host the Western Final on Sunday, Nov. 19 at McMahon Stadium. The Stamps (13-2-1) officially locked up top spot in the division as a result of today's loss by the secon...
Happening Now
Tweets By OSC Today